Zambian opposition leader Hakainde Hichilema has been declared the winner of last week's bitterly contested presidential election.
Mr Hichilema defeated the incumbent, President Edgar Lungu, by a landslide – more than a million votes.
It was Mr Hichilema's sixth attempt at winning the presidency. His supporters have been celebrating on the streets of the capital, Lusaka.
Mr Lungu's Patriotic Front has accepted defeat and congratulated Mr Hichilema.
Earlier, Mr Lungu alleged that the elections were not free and fair.
He said Patriotic Front election officials had been chased from polling stations, leaving votes unprotected.
In its final tally, the electoral commission said Mr Hichilema had won 2,810,777 votes to Mr Lungu's 1,814,201 in Thursday's election. There were seven million registered voters.
The huge margin of victory means there is no need for a run-off.
Mr Hichilema was born into humble beginnings in the southern district of Monze.
He managed to get a scholarship to the University of Zambia, and later graduated with an MBA degree from the University of Birmingham in the UK. He went on to become one of Zambia's richest men, with business interests in finance, ranching, property, healthcare and tourism.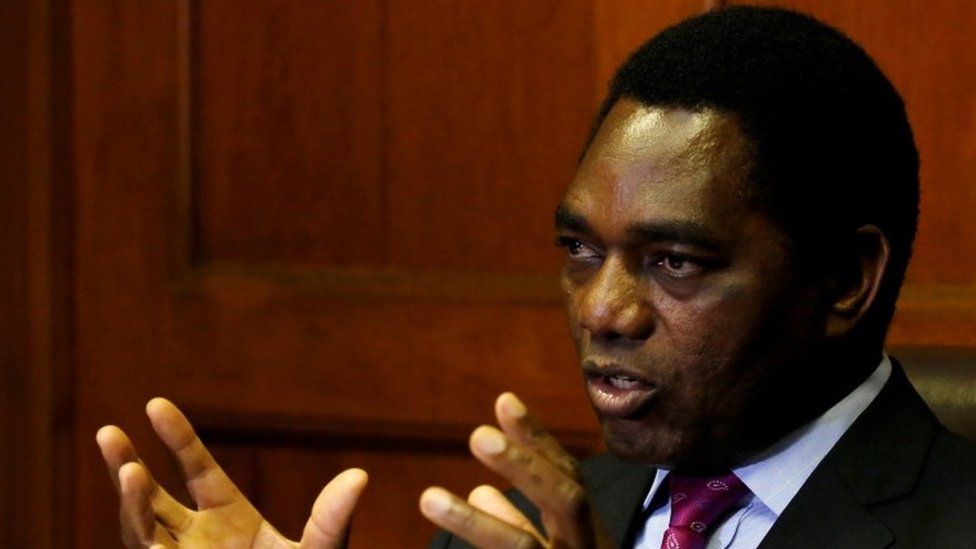 Mr Hichilema has described himself as an ordinary "cattle boy" and has contested and lost every election held in Zambia since 2006. However, each time he has increased his share of the vote.
In 2016, Mr Hichilema said the election was stolen from him after he lost to Mr Lungu by just 100,000 votes.
Mr Hichilema has faced problems with authorities since entering politics.
After the 2016 election, he was charged with treason for allegedly failing to give way to the presidential motorcade. He spent four months in a maximum-security jail before the charges were dropped.
…….bb.com
Please follow and like us: