Political activist Kwame A-Plus has sent a plain message to the New Patriotic Party that they should know that they will not stay in power forever and they should be very careful about how they're treating Ghanaians in some parts of the country.
According to A-Plus, the disenfranchised that went on during elections where over twenty thousand voters in the Volta region was disenfranchised to make an NPP MP win election is bad and if the tables turn around, NDC will do it to them too, and they will cry a river.
A-Plus said a system where over twenty thousand citizens can be disenfranchised just to allow one person to become MP is not good.
He said if you are NPP member and you think what happened is okay, then look up into the heavens and promise God that one day, when the tables turn; WHEN the same happens somewhere in the Ashanti region, you'll see it to be normal.
He again said if you are an NDC supporter who is complaining and condemning it today, look up into the heavens and promise your own God that, you have read the part of the Bible which says, DO UNTO OTHERS AS YOU WANT OTHERS TO DO UNTO YOU and that WHEN it happens, you will condemn it with the same energy.
According to A-Plus, "I used WHEN because definitely, the tables will turn, and NDC will do it to NPP, and NPP will cry a river, and NDC will justify it. It will still be the same Manasseh, Franklin Cudjoe, Kwame A Plus, Bright Semons, Kwaku Azar, Professor HK Prempeh, Kofi Bentil Benard Avle, etc condemning it".
He said by then, so many NDC people will leave his social media page and many NPP people will come back and like it. However, A-Plus said this is what Ghanaians have lived with for years and they're are used to it.
"But you see, there is a God who looks into the heart of men!!!" He added on his facebook wall today.
Meanwhile many has stated that it is because NPP is not giving much attention to A-Plus that's why he is very hard on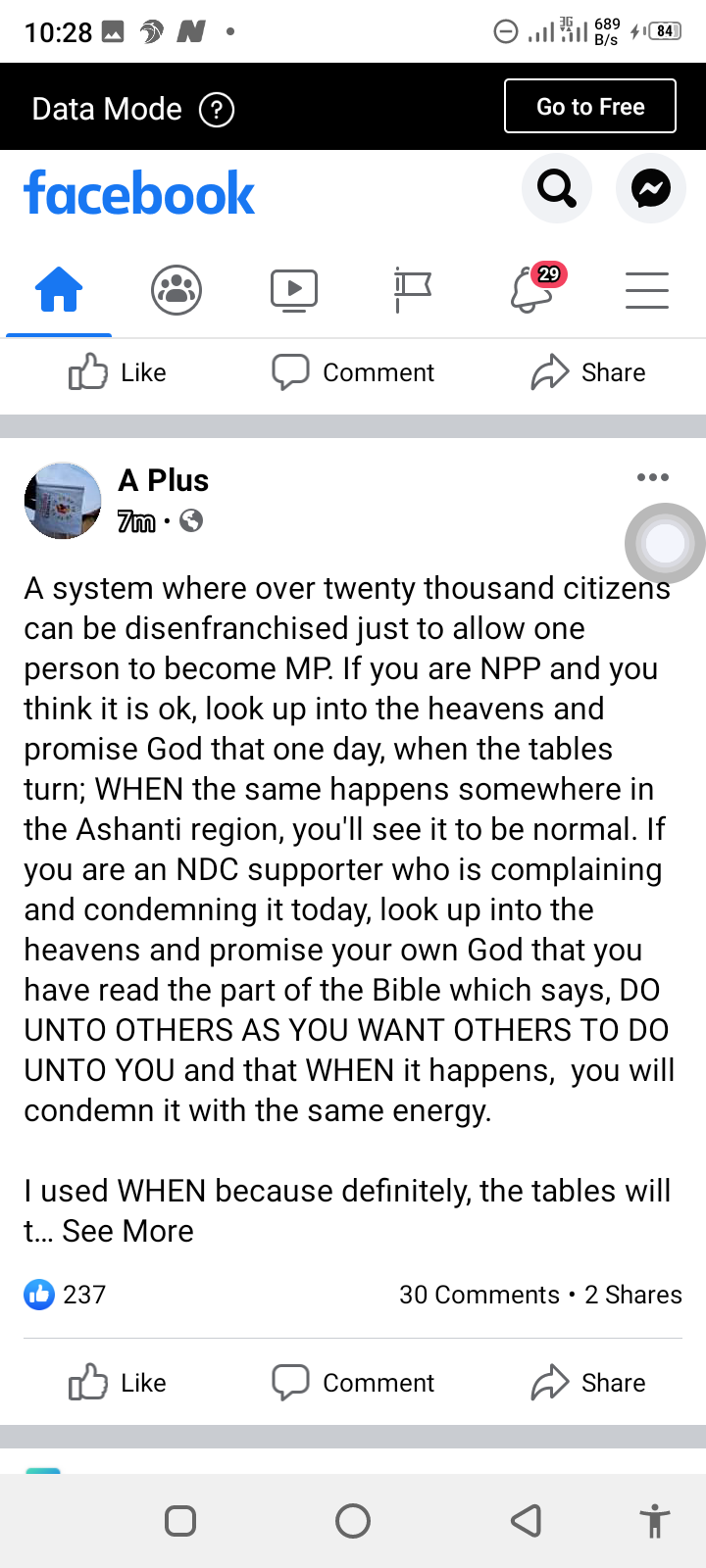 ……….0peranews
Please follow and like us: