The National Democratic Congress (NDC) has called for a full-scale probe into the murder of top Islamic Cleric, Ali Ahmed Maikano.
Sheikh Ali Ahmed Maikano is reported to have met his untimely death while returning from an event on Tuesday.
He was shot by suspected highway robbers when he was travelling home from Kajegu after the event.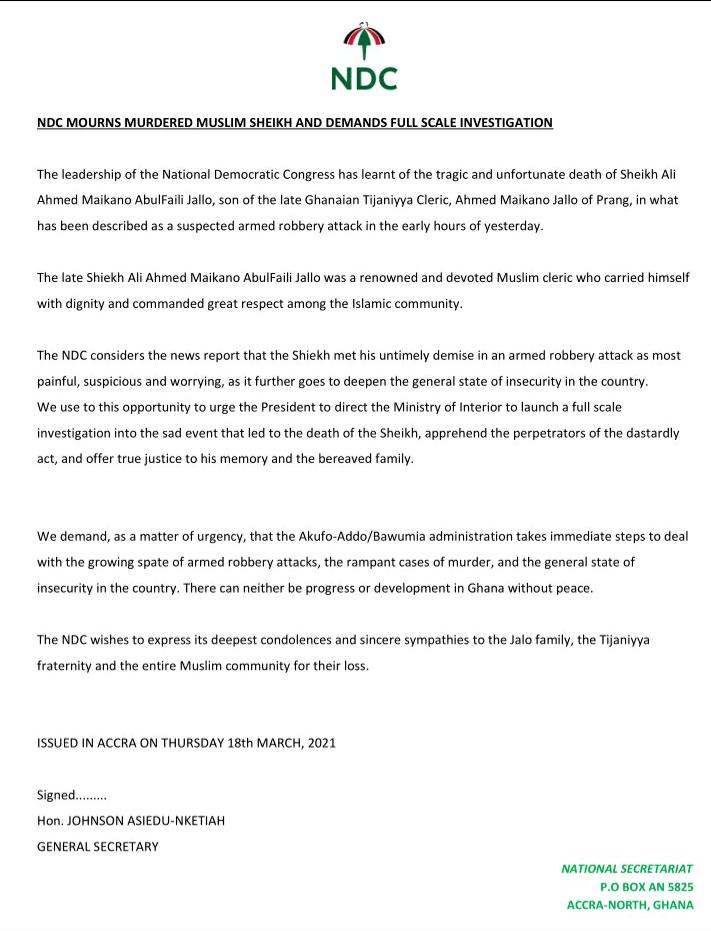 The NDC in a statement signed by its General Secretary, Johnson Asiedu Nketia, has described the death as "unfortunate, painful, suspicious and worrying."
The party added that the murder "goes to deepen the general state of insecurity in the country."
The NDC is, therefore, calling on President Akufo-Addo and the Interior Minister to launch investigations into the murder.
"We use this opportunity to urge the President to direct the Ministry of Interior to launch a full scale investigation into the sad event that led to the death of the Sheikh, apprehend the perpetrators of the dastardly
act, and offer true justice to his memory and the bereaved family."
source: myjoyonline
Read also:
Please follow and like us: